About taxi Charles de Gaulle Airport - Paris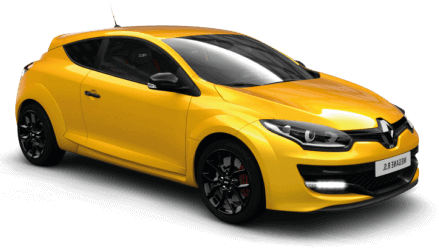 Distance: 30 km
Time in way: 30 min.
Transfer cost from: $90
Paris Charles de Gaulle Airport is one of the main air station in France and one of the biggest air station in the world. It differs its huge size and consists of few terminals. To make it more comfortable for tourists there are many free buses and railway shuttles that run between these terminals. How can you get from Charles de Gaulle Airport to Paris?

Pricing table on the transfer Charles de Gaulle Airport - Paris
Transfer type
Description
Price
Micro
Cheap transfer for couples and families with a child.
$90
Economy
Cheap way. Superior limit: 4 persons, 3 bags.
$90
Comfort
For long-distance trips with comfort.
$90
Business
Comfortable car for business trips.
$125
Premium
Premium car for VIP clients - Mercedes, BMW 7, Audi A7.
$347
Minivan 4pax
Perfect way for 4 persons, 4 luggage places.
$125
Minibus 7pax
Minibus for 7 persons, 7 places for bags.
$125
Premium Minibus 6pax
Business class transfer for a group of 4-6 people.
$167
Minibus 10pax
Right choice for a group of up to 10 people.
$624
There are few kinds of transport:
Electric train
Paris Charles de Gaulle Airport is situated in 25 km from Paris and there is line of local electric trains RER, that connects them. You can get to French capital and to different underground station by this electric train. Railways stations are situated near terminal 2 and 3, there are arrows «Paris par train», line B will lead you to Paris.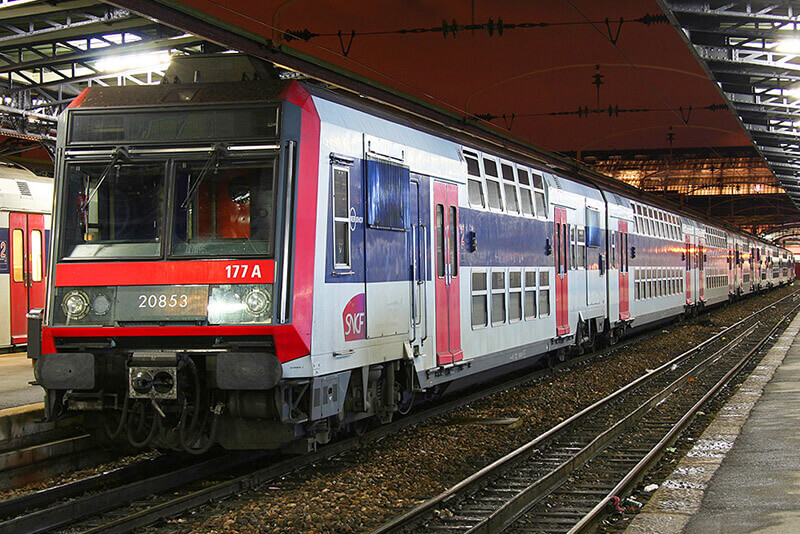 The main advantage of such kind of trip is that there is no traffic jam and the whole trip the centre will take you about 40 minutes. When you get by arrows to the station of electric trains RER, you should buy ticket in the terminal or booking office, trip will cost you about 9.5 euro. Electric trains go every 10-15 minutes from air station from 5 am and till midnight.
Bus
There is bus connection between the airport and Paris. You can get to the Opera Square in 45-60 minutes by bus Roissbus – it's the centre of the capital. There are bus stops near all terminals of Charles de Gaulle Airport and they go from 6 am to 11 pm every 15-20 minutes. You can buy tickets in the special automat, at the station of electric train RER or ask the driver, the price is 10 euro.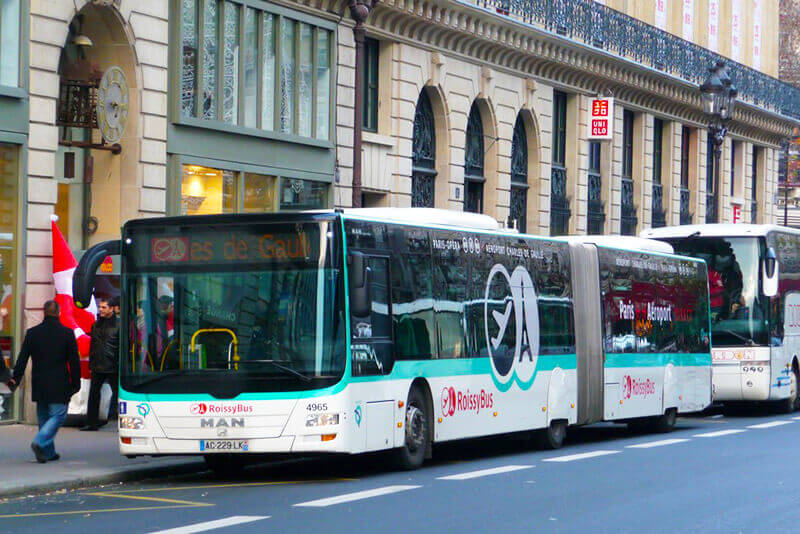 The Air France bus goes in two ways: line 2 to the Place Charlle de Gaulees and line 4 – to Gare Montparnasse and Paris-Gare de Lyon. They depart from the stop that is situated on the ground floor between terminals 2E and 2F. They go every 30 minutes from 5.45 am to 11 pm. The trip will take you about an hour and the ticket costs about 17 euro (tickets for kids are twice cheaper).
You can get to Paris by ordinary regular bus №350 and 351. The route 350 connect the airport with the Eastern station, route 351 leads to the underground station Nation. Both buses depart from the railway station near terminal 3, they go every 15-30 minutes. The ticket costs about 6 euro and you can buy it in the automat, booking office of RER or ask the driver.
The whole trip will take you from 45 minutes to 1.5 hour. During nighttime or early morning you can use personal transfer from the airport to Paris by special night buses routes 140 and 143, which go to the Eastern station in Paris. The first run goes in midnight and the last in 5.30 am. They go every 30 minutes. The stops are situated near terminals 1, 2 F and 3. The whole trip will take you about 1-1.5 hour and the price will be 7.6 euro.
Cab from Charles de Gaulle Airport to Paris
The easiest and the most comfortable way to get to the city is cab. There are stops near every terminals and to find them you should follow arrows «Taxis». To get your car, you should wait for some minutes. You can find the middle prices for cab online in widget below:
The cars of official transfer companies are usually black or grey and they have green light sign on the top. The price from the airport to Paris is about 50-70 euro, during holidays, weekend and night time the price can be higher in 15-20%.
Transfer
Those, who don't know language or just don't want to take care of any difficult situations should book personal transfer beforehand. In this case the driver will meet tourists with the tablet of their names. The price doesn't differ from trip by cab and begins from 60 euro. More than this, you can book seats in touristic shuttles for 19 euro and you can find such kind of transfer in widget below:

See also: