About taxi Memmingen Airport - Munich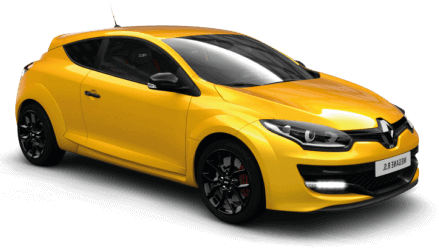 Distance: 120 km
Time in way: 1 h. 30 min.
Transfer cost from: $224
Memmingen airport is not big airstation in Germany, which is situated only in 4 km from the same name city. In spite of his small size, it's very popular among tourists because there is good transport connection with few German cities at the same time, including Munich. The distance between airport and Munich is a little more than 100 km.

Pricing table on the transfer Memmingen Airport - Munich
Transfer type
Description
Price
Micro
Cheap transfer for couples and families with a child.
$224
Economy
Cheap way. Superior limit: 4 persons, 3 bags.
$224
Comfort
For long-distance trips with comfort.
$224
Business
Comfortable car for business trips.
$268
Premium
Premium car for VIP clients - Mercedes, BMW 7, Audi A7.
$372
Minivan 4pax
Perfect way for 4 persons, 4 luggage places.
$224
Minibus 7pax
Minibus for 7 persons, 7 places for bags.
$238
Premium Minibus 6pax
Business class transfer for a group of 4-6 people.
$320
Minibus 10pax
Right choice for a group of up to 10 people.
$565
You can overpass this distance in few ways:
By train
Those, who want to save some money, can choose public transport for their trip, for example train Memmingen – Munich. To do this, at first they should get to the Main station in Memmingen. You can get there by bus №2 or №810/811 in 10 minutes, the price is only 2.5 euro. The bus station is situated in front of the railway station.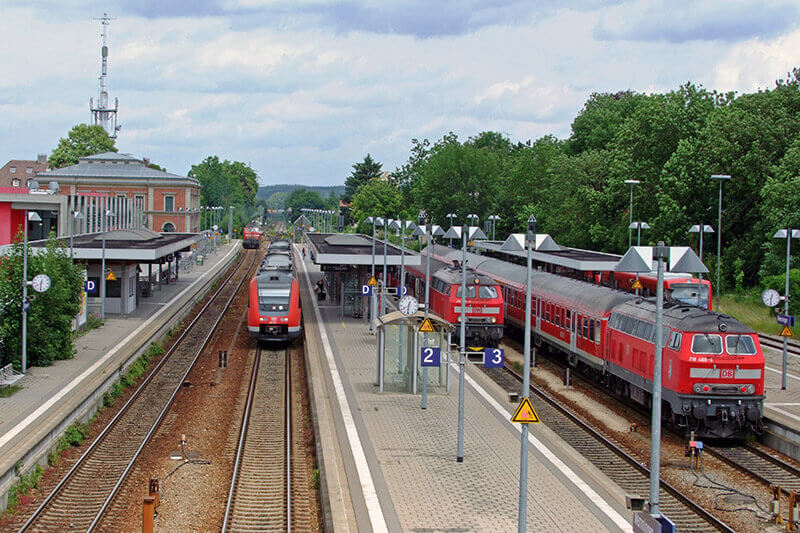 The second way to get to the railway station is hire a taxi, which costs 15 euro. It's very comfortable and not expensive for company of tourists. The train from Memmingen to Munich goes every hour from 5 am to 11 pm and it will take you about 1.5 hour. The ticket costs about 20 euro. You would rather buy it beforehand through the Internet, but you can also buy at the station – in special automat or booking office.
The Bus Memmingen – Munich
The second kind of public transport is bug Memmingen – Munich. It will be the cheapest way of travelling. Allgau-Airport-Express shuttles go to the bus stop near the airport in Munich, running about 4-8 times a day. If you book it beforehand on the site of transfer company, it will be cheaper, but if you buy it through driver it will be more expensive – 18 euro.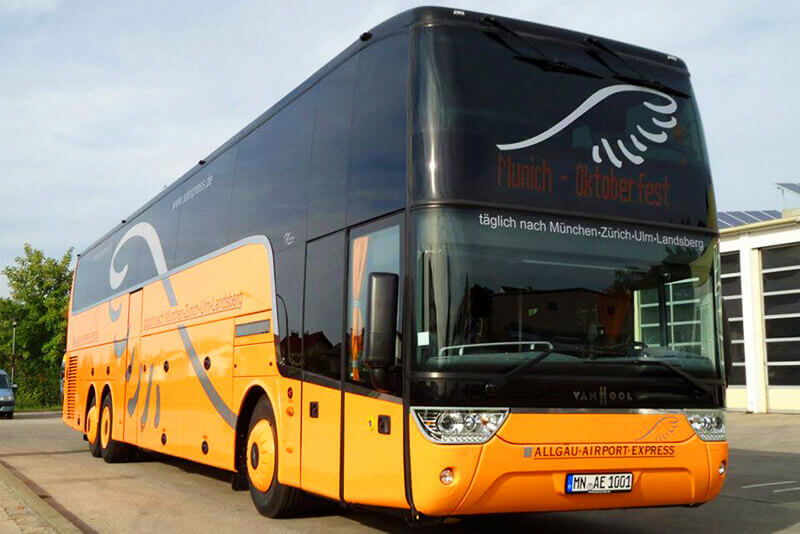 The trip will take you about 1.30 hour. By Bus and Fly minibus you can get to the centre of Munich in one hour and you can buy tickets beforehand on the site of transfer company or ask the driver. The price is about 13-16 euro.
Hiring a car
Those, who don't want to depend on someone, can hire a car and travel by it themselves. But to do this, you should know the rules: the driver should be older than 21 year and his driving experience should be more than 3 years, he should have international driving permit and its expiration date shouldn't date in one month.
You can chose the car and make deal in the airport, but it would be better to take care of it beforehand and book it on the site of any company. Minimum value of hiring per one day is 60 euro, you can overpass the distance to Munich in one hour and bigger part of the road you should drive by highway.
Booking a taxi or transfer from Memmingen to Munich
Taxi is one of the most comfortable ways to get from the airport to Munich. There is cab rank near the exit of the arrival hall. If you want to be sure, you can book personal transfer by phone or through the Internet, for example, using widget below:

The price for the cab from Memmingen to Munich is minimum 150 euro, and it will take you no more than 1.5 hour. This variant is also comfortable for the company of 4-7 persons, because transfer by minibus will cost only 210 euro and it's only 30 euro per person.
Se also: