If you travel by yourself, then on arrival in Suvarnabhumi Airport you have few ways: you can buy bus ticket to Pattaya, hire random cab and agree upon the price or order transfer in the special service. We will talk about all these variants below.

1. The bus trip
it's a good bargain. As soon as you arrive to Bangkok and pass passport control, you can buy a bus ticket to Pattaya on the ground floor. There are few posts different transporters.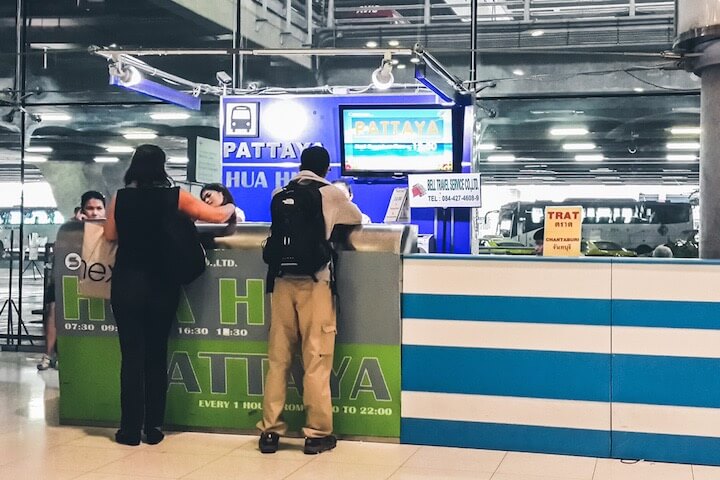 There is well-known the bus number 389. Ordinary the price is the same, about 130-150 baht. You can find the schedule and the price on this site. Also you can book tickets beforehand while you are at home.
The buses are good and they can be recommended. Advantages – it's cheap way. Disadvantages – tired tourist after 9 hours flight should go with luggage, wait for a bus and then go by bus about 2 hours. Moreover, after arrival to the station in Pattaya you should hire a cab to the hotel.
2. The cab from Suvarnabhumi to Pattaya
The most important advice – don't listen to cab's drivers. You should rather find the cab post in front of the exit of terminal (where you arrived) and book cab. You will have receipt after paying. The price can be 1300-1900 baht. Advantages – it's fast trip to the hotel that you need. Disadvantages – very often drivers don't know Pattaya so good and can look for it for a long time, of course if it is not something like Hilton 😀
3. Transfer from Bangkok to Pattaya
It's the best way to get to Pattaya. You can book transfer from Suvarnabhumi to Pattaya, while you are sitting in comfortable chair at home and be sure that the driver will meet you with the tablet with your name. Advantages – it's the most comfortable and fastest way, there is no waiting, searching or risk.

There are different kinds of cars, economy class or premium class. Also you can book minibus for 7 seats. The price is about 49 $ – 72 $ for minibus. If you are going with company it's better to pay about 10 $ per person and go by minibus. You can use below:
These are the best ways to get from Bangkok to Pattaya and back. There is not better way.