About taxi Antalya Airport - Tekirova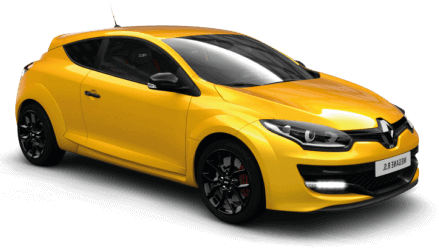 Distance: 76 km
Time in way: 1 h. 25 min.
Transfer cost from: $55
Tekirova is not big resort settlement in Turkey, that is situated not far from famous Kemer. The nearest air station is airport in Antalya, the distance between them is about 70 km. You can get from the airport to resort by cab, local bus or minibus and with the help of personal or group transfer.

Pricing table on the transfer Antalya Airport - Tekirova
Transfer type
Description
Price
Micro
Cheap transfer for couples and families with a child.
$67
Economy
Cheap way. Superior limit: 4 persons, 3 bags.
$55
Comfort
For long-distance trips with comfort.
$67
Business
Comfortable car for business trips.
$234
Minivan 4pax
Perfect way for 4 persons, 4 luggage places.
$55
Minibus 7pax
Minibus for 7 persons, 7 places for bags.
$68
Premium Minibus 6pax
Business class transfer for a group of 4-6 people.
$70
Minibus 10pax
Right choice for a group of up to 10 people.
$70
Minibus 13pax
Minibus for 13 persons is perfect for groups.
$70
Navigation:
Bus from Antalya to Tekirova
Public transport and local transport are the most economical for travellers way. In this case we mean buses and minibuses (they are called dolmush). Airport in Antalya is not connected with resorts by direct bus connection, so you we have to do at least one transfer. At first you should get to the bus station in Antalya (Otogar), you will need bus number 600.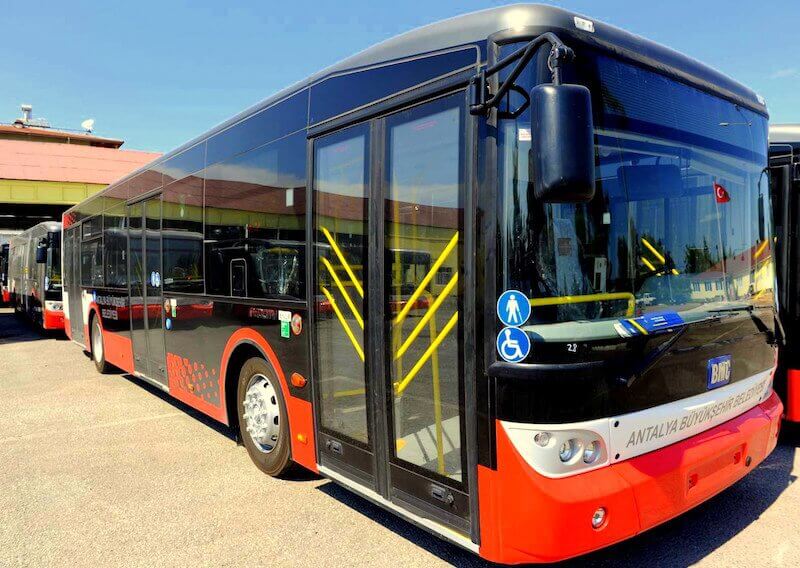 It departs from terminal 1 every 20-30 minutes every day from 7 am to 1 am. The trip costs 4 lira and the trip will take you about 1.5 hour. There is another way to get to Otogar – the airport service bus Havas. It also departs from terminal 1, but it goes every hour. The trip to bus station won't take you more than one hour, the price is about 10 lira per person.
When you get to Otogar, you should find dolmush or express bus, which goes by route Antalya – Kemer – Tekirova. Local bus station is rather big, so it will be easy to get lost, but you can always ask servant, he will always help you to find right transport. The bus ticket will cost you 8 lira. You should better look for transport with the tablet «express», because it will stop less times and the road to Tekirova will take you about one hour. If you go by usual dolmush it will take you about 1.5-2 hour.
Taxi
Cab is the most comfortable and easiest way to get to the place of your rest. You can book it on the site of transport company or by phone, moreover, there is an opportunity to use service of air station's transport company. Taxi rank is situated not far from terminal: when you go out of it, you should turn right and then go forward for few metres.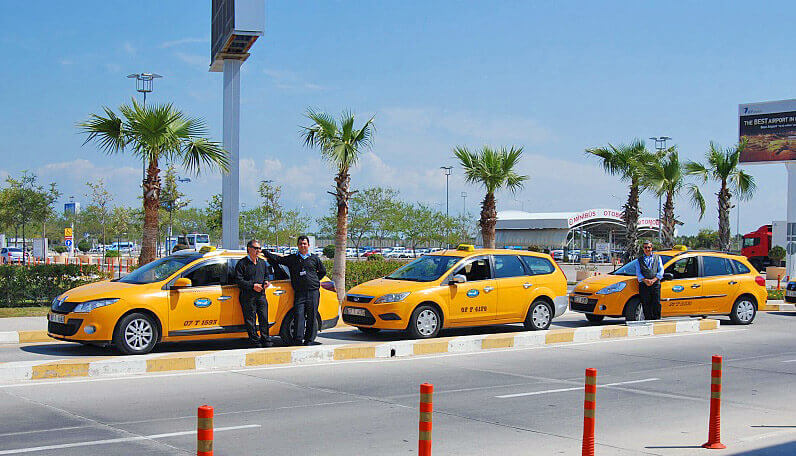 All taxi of official transport companies are colored in bright yellow color, so it is impossible to miss them. There is servant on taxi rank, which will answer you all your questions, that are connected with your trip and he will help you to find driver. Prices for local trips are fixed and they don't depend on the counter, they are on the special shield on the car rank. It will cost you 85$ and it will take you about 1.5 hour.
Personal transfer
Another alternative way can be personal transfer – it's no less comfortable than trip by taxi, but cheaper. You should book and pay for this service beforehand. But in this case, the car will wait for its passengers and driver will meet you with the tablet with your name. You shouldn't stay in line and look for something. Personal transfer from Antalya to Tekirova will cost at least 53$ for economy class car and it won't take you longer than 1.5 hour.
Group transfer is a part of tour, but independent tourists can also try to use this kind of service. At first you should get to the bus stop, where buses are wait for their passengers and try to ask guide about your trip. If there are free seats, it's real. Usually the price is about 20-30$. But in this case you should wait for all passengers and stop in other hotels, so it will take you about few hours. You can check prices and find perfect way in widget below:

See also: