About taxi Rome - Florence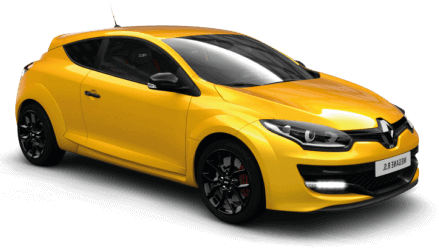 Distance: 281 km
Time in way: ~3 h.
Transfer cost from: $850
Florence is the capital of Tuscany, as well as one of the cultural, historical, tourist centres of Italy. Many travelers while visiting Rome are trying to stay in Florence for one or several days. The distance between these cities in a straight line is approximately 275 km. Lots of people are concerned about the question: "How to get to Florence from Rome?" One can reach the destination by bus or railway public transport, as well as by ordering transfer or driving a hired car.

Pricing table on the transfer Rome - Florence
Transfer type
Description
Price
Micro
Cheap transfer for couples and families with a child.
$993
Economy
Cheap way. Superior limit: 4 persons, 3 bags.
$964
Comfort
For long-distance trips with comfort.
$850
Business
Comfortable car for business trips.
$1671
Premium
Premium car for VIP clients - Mercedes, BMW 7, Audi A7.
$1573
Minivan 4pax
Perfect way for 4 persons, 4 luggage places.
$1104
Minibus 7pax
Minibus for 7 persons, 7 places for bags.
$1150
Premium Minibus 6pax
Business class transfer for a group of 4-6 people.
$1430
Navigation:
Train from Rome to Florence
The easiest and most convenient way of travelling is one by train. Daily from 6 a.m. till 9 p.m. about 60 trains run between cities. Intervals between departures don't exceed 20 minutes. Regular railway message provides trains of 5 types. Ticket price and travel time will depend on it.
Superior high-speed trains "Red Arrow" (FrecciaRossa) and "Silver Arrow" (FrecciarGento) cover the distance from Rome to Florence for 1.5 hours. Travelling by Intercity and IntercityNotte (night) trains will take about 3 hours. The longest time to get the city will take travelling by regional train Regionale Veloce – 3.5 – 4 hours.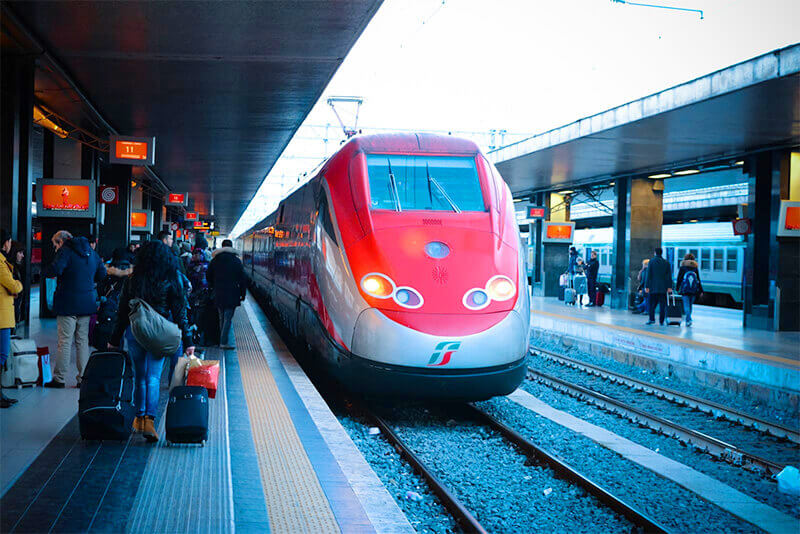 The majority of trains leave the main Rome train station Termini and arrive at the central Florence station Santa Maria Novella. At the same time, Tiburtina Station can be chosen as a starting point, whereas Rifredi one – as the final destination. Train tickets "Rome – Florence" can be bought at the station – in a ticket office or in TVM (ticket vending machine), as well as on-line.
The last variant is the most economical one, especially when ordering a ticket not earlier than a week before a trip. Discount in this case can be equal to 15-25€. When booking via Internet you are simultaneously reserving train seat. In all other cases you have to pay extra money for this service.
The most expensive transfer solution is high-speed express trains (40-100€). Average ticket price on other types of trains is 20-30€. Children under 4 years without a seat can travel for free. There is 50% discount for 5-14-year-old children.
Bus
The next type of public transport that lets you get to Florence from Rome is bus. The most popular carrier is Eurolines Company. Its signature white-coloured buses run between mentioned cities every day. In Rome transport leaves Tiburtina Station and arrives at the Florence railway station Santa Maria Novella.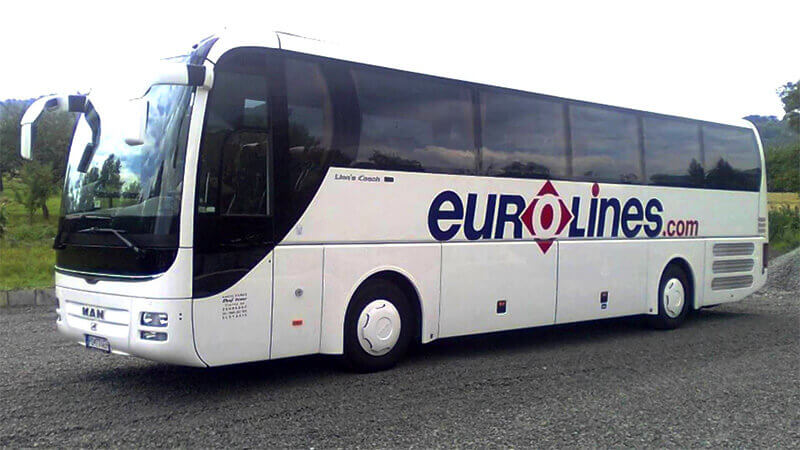 There is a huge amount of daily routes. There exist even variants of night trip. Bus tickets "Rome – Florence" can be bought in a ticket office of bus or railway station, in travel agency, as well as booked beforehand via carriers websites. Ticket price varies from 14€ to 25€. If there are some promotions, you can purchase a ticket even for 11€. There are also discounts for children, their trip will cost half the price of adult person. Such a trip will take 4-5 hours, but all the transport is comfortable and highways have an excellent road surface.
Hiring a car
Having hired a car, you can not only get from Rome to Florence in comfortable conditions, but also see the sights of capital city Tuscany on your own. To hire a car you can make an order beforehand or to do it directly in one of the numerous Rome companies. Minimum rental price for twenty-four hours amounts 55€. Apart from this, making deposit is required.
You'll get a car with a full tank. When returning it the car has to be full, too. You can reach Florence on free highways or paid ones. Maximum allowed speed on ordinary highway is 110 km/h, along settlements – 50-70 km/h, on paid highways – 130 km/h. In the last case you will be obliged to pay 5€ per every 100 km of your way. Entire trip will take about 3 hours.
Transfer from Rome to Florence
To reach Florence from Italy capital with maximum comfort, you have to order private transfer, though this variant is the most expensive one. When booking such a service a client can be absolutely sure, that a passenger car or minivan will be waiting at the appointed time and place.
Bus transfer Rome – Florence will take about 3 hours. Service cost begins from 400€ per a passenger car, from 500€ per minivan, what is convenient for company and not expensive. There is also possibility to order baby car seats. There are many carriers. For instance, you can choose transfer in the widget below:

See also: