About taxi Larnaca Airport - Limassol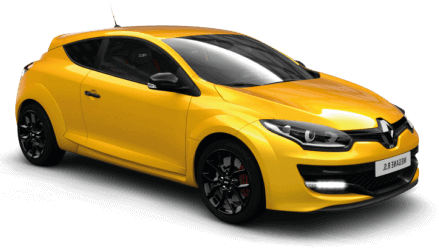 Distance: 68 km
Time in way: 50 min.
Transfer cost from: $60
Limassol is the biggest economical, cultural and touristic centre on Cyprus. There is no air connection in the city, but there is the main air station of the island in 70 km – Larnaca Airport. You can get here by public transport and by taxi. We will check all the ways how to get from Larnaca to Limassol in details.

Pricing table on the transfer Larnaca Airport - Limassol
Transfer type
Description
Price
Micro
Cheap transfer for couples and families with a child.
$60
Economy
Cheap way. Superior limit: 4 persons, 3 bags.
$60
Comfort
For long-distance trips with comfort.
$67
Business
Comfortable car for business trips.
$67
Premium
Premium car for VIP clients - Mercedes, BMW 7, Audi A7.
$120
Minivan 4pax
Perfect way for 4 persons, 4 luggage places.
$79
Minibus 7pax
Minibus for 7 persons, 7 places for bags.
$76
Premium Minibus 6pax
Business class transfer for a group of 4-6 people.
$103
Minibus 10pax
Right choice for a group of up to 10 people.
$105
Navigation:
Bus
There are regular special bus shuttles Limassol Airtport Express, that go from the airport to Limassol. To get into the bus, you should pass customs supervision, get your luggage, go out from the arrival hall and turn left, where is post for selling bus tickets. The price for an adult is 9 euro, for kid to 12 years price is 4 euro.
There is a door, which leads you from the terminal, it is situated next to the post. Then, after that door, there is stop for those shuttles. It goes every 1-1.5 hour, but it won't go, until it won't be full, sometimes you should wait for 40 minute. It will take you a little more, than one hour and the last stop in Limassol is Agios Georgios Havouzas Church. It's not big bus station, which is situated near St. George Church.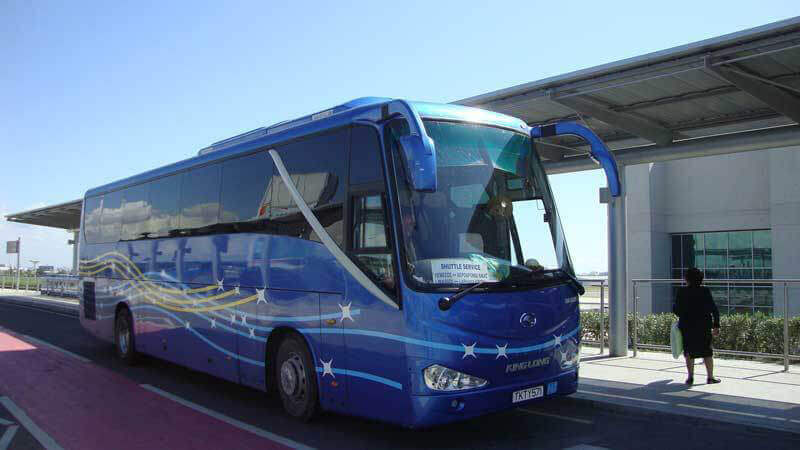 The other way is usual route bus from Larnaca to Limassol. It is cheaper. Bus ticket costs 7 euro, you can ask the driver to buy it. The bus stop is situated next to exit of terminal, exactly, on the left side. It goes from 5 am till already 1 am every 1-2 hour. It will take you about one hour.
The cheapest way is trip by long-distance bus Intercity Buses, but in this case you will need to transfer once. At first, you should get from air station to the centre of Larnaca. To do this, you should get to the first floor of terminal, and when you get outside, turn left. There is bus stop in few meters, where depart blue bus to Larnaca, there is also bus timetable. There are many runs per day, they go till 11 pm.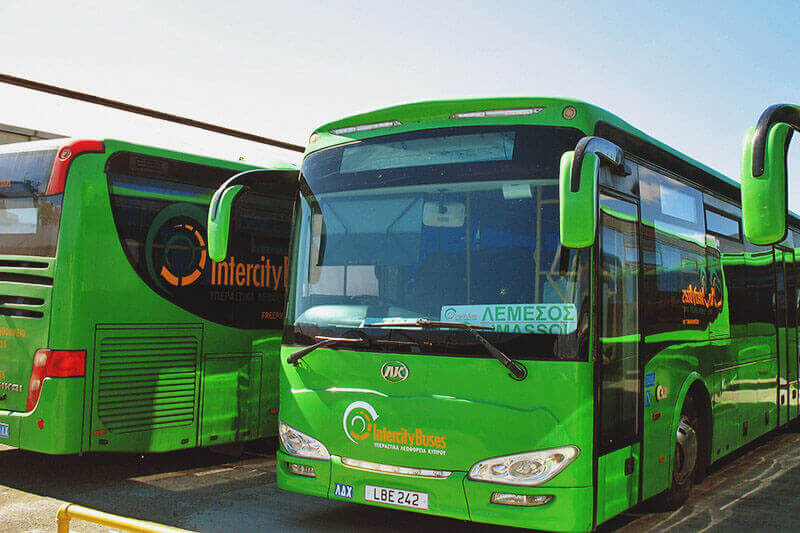 It costs only 1.5 euro, you can ask the driver to get it. It won't take you more, than 15 minute, you should go off on the stop Finikoudes Promenade, it's local wharf. You shouldn't go anywhere, there depart green buses Intercity with the tablet "Limassol". Ask the driver to get your ticket, it costs 4-5 euro. To get to Limassol take you 1.5-2 hour, where the last stop is New Port. More than this, bus stops three times in the city.
Taxi from Larnaca to Limassol
You can get in comfort, if you hire a taxi. You can book it beforehand online or by phone, but you won't have any problems even if you want to hire it by your arrival. Taxi rank is situated in front of the exit of air station, legal taxi has black or white color and there is sign of the top.
There are no illegal drivers on Cyprus. Taxi from Larnaca to Limassol will cost 55 euro in day time and in night time price is a little bit higher, about 60 euro, in this case your trip will take you about 40-50 minutes.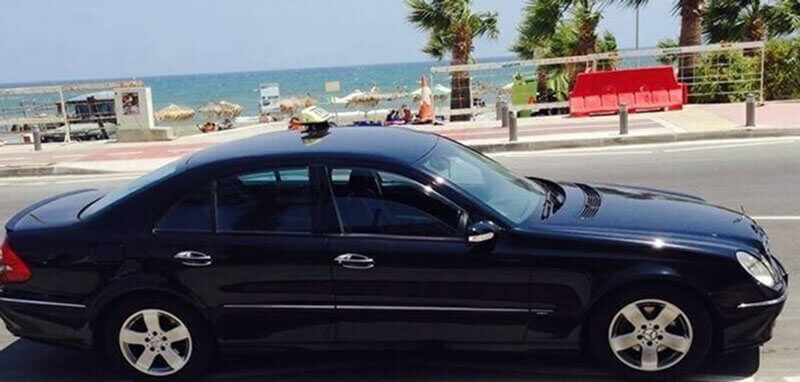 Transfer from Larnaca to Limassol
And of course, the safest and the most comfortable way is booking transfer. There are group transfer (from Travel Express Company, for example) and personal (if you travel in small company). Group transfer is something like minibus, which takes each passenger to his hotel.
Such kind of trip is a little more expensive, than public transport and will cost 13 euro per person. You should book this service beforehand (per day), filling special form on the site, you shouldn't pay beforehand. Blue minibus will be in time and the driver will help you with luggage. Trip to Limassol, depending on route, will take you about 1-1,5 hour.
If you book personal transfer from Larnaca to Limassol, so comfortable car with the driver will wait for you in right place and take you to the place of your destination quickly. This kind of transfer is more expensive, but it's better. You can choose needed transfer on the sites of transfer companies or in widget below:

See also: